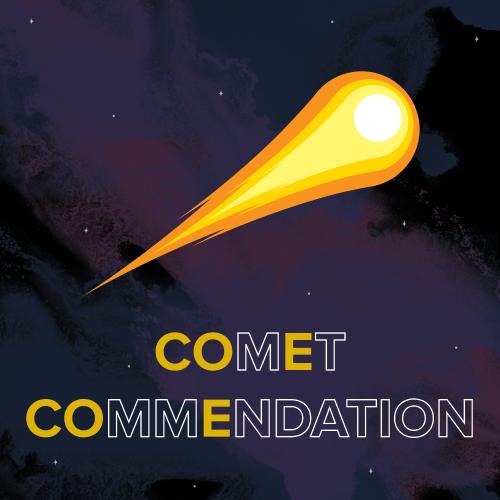 Comet Commendations are an opportunity to recognize fellow College of Engineering employees who take actions that strengthen our community. Staff, faculty and other academic employees are encouraged to participate and recognize their colleagues.
Each month, three recipients and one submitter from the previous month will be randomly selected to receive a $25 gift card.
Randomly selected recipients will be highlighted in Engineering Weekly on the first Tuesday of the month. All other recipients of commendations will be recognized on the college's intranet on an ongoing basis.
Note: This program is for staff, faculty and other academic employees. See below for resources and ideas to recognize student staff, graduate and professional students and postdocs.
Commendations Given
September 2023
Recipient

Recipient's Department

Reason for Commendation

Submitter

Submitter's Department

Penny Schafer

Dean's Office

Penny has gone beyond the call of duty in assisting ECE in our recruitment and retention efforts by providing timely assistance, advice and interaction with the candidates.   

André Knoesen
ECE

Kari Gage and Sara Sweeney

CS & MSE
Kari and Sara were instrumental in the OASIS Degree Certification training conducted for all the major advisors in the college. I was extremely grateful for their willingness and eagerness to assist in the instructional guide and demonstration especially knowing their time is scarce. It was truly a collaborative effort that resulted in a successful training. Thank you, Kari and Sara, for your endless support with College of Engineering projects and our students!
Shadaya Litt
EUO

Norma Andrade

Dean's Office

I wanted to take a moment to express my sincere appreciation for the outstanding support and excellent customer service Norma Andrade consistently provides to our new faculty members. Norma's dedication and commitment to going the extra mile has not gone unnoticed.

Norma's willingness to assist and guide new faculty through the procurement process has made a significant difference in their onboarding experience. Her patience, knowledge, and attention to detail have helped them navigate the sometimes-complex world of procurement with ease.

Norma's proactive approach and timely responses to their inquiries have not only saved them valuable time but have also given them a sense of reassurance and confidence in our organization's support system. Her willingness to accommodate their unique needs and find creative solutions to challenges has been truly remarkable.

In addition to Norma's exemplary customer service skills, her ability to maintain a positive and approachable attitude, even during busy times, has contributed to a welcoming and supportive environment for our new faculty members.

Norma's dedication to our college success and her commitment to ensuring that every faculty member feels valued and supported is truly commendable. Norma exemplifies the highest standards of professionalism and service excellence.

I want to extend my heartfelt gratitude for her exceptional contributions. Norma's efforts reflect the values and culture we strive to uphold, and they play a pivotal role in our continued success.

Once again, thank you to Norma, for her unwavering commitment to our faculty and our college. Norma's dedication does not go unnoticed!

Melanie Clague
Dean's Office

Daret Kehlet and Dave Griffiths

CEE & Dean's Office
Daret and Dave led the transformation of the CEE boathouse into a more useable space to help deal with a pressing space issue. They went above and beyond to find and implement effective and timely solutions. 
Chris Cappa
CEE

R. Paul Villaluz

Dean's Office
I would like to recognize R. Paul for his assistance in showing me how to use Qualtrics. His willingness to share his expertise is greatly appreciated. I am now better equipped to utilize Qualtrics effectively for our projects. Thank you!
Ammy Martinez
Dean's Office