Staff Champion: Stacey Cook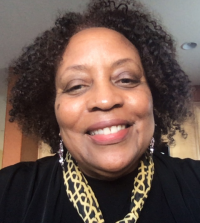 "Each one, reach one" has been a motto in my family for as long as I can remember. The meaning behind the sentiment was to extend oneself to others as a way to make their lives better. Giving to support students and programs that benefit students is one way that I demonstrate my commitment to higher education.
For many years I aspired to be a philanthropist, but thought I needed millions of dollars to support causes in which I believe. Upon closer reflection, I realized that I have been a philanthropist for many years. I started by giving $25 a month via payroll deduction to the Educational Opportunity Program (EOP) and gradually increased my giving. Now, I continue to give through payroll deduction supporting LEADR, the Student Startup Center, and the Center for African Diaspora Student Success (The Linda Frances Alexander Scholars Program). I have also made contributions to the AB540 and Undocumented Student Center Community and the UC Davis Staff Emergency Fund to help these programs accomplish their goals this year.
Give Day (April 16-17, 2021) is a wonderful opportunity for us as staff to invest in UC Davis in a different way than we do on a daily basis. We don't have to look far to find a program that is doing work that is meaningful to us. Generous donors to the College of Engineering have set up fundraising challenge gifts to encourage and motivate others to support the engineering student hardship fund, all eight of our academic departments, and three of our student clubs. You know first hand what philanthropic dollars mean to the beneficiaries of each of these funds.
Will you join me by giving at least $25 on Give Day and help the college create a sustainable world through socially responsible engineering? Give to the College of Engineering at this link.
PS. If you're interested in payroll deduction, Mary McCormack on the college's development team made it so easy for me! Please reach out to their team if you are interested in giving through payroll deduction: engrdev@ucdavis.edu.